We are the commercial cleaning experts.
Welcome to ServiceMaster Of Brantford
Incredibly clean, with incredible consistency.
Since 1999, ServiceMaster Clean of Brantford have been providing janitorial services to businesses in the Brant County, Haldimand/Norfolk County and major centers such as Brantford, Paris, Simcoe and Delhi.
We are committed to providing outstanding service to all of our clients; each receiving the same attention to detail and dedication, whether they are a large, medium or small facility. We believe in added value because we understand every dollar matters to your budget. Added value includes 24 hour live answering service, free initial clean ups with successful bids, friendly and professional service and a management team that truly care about your interests.
ServiceMaster Clean of Brantford is also committed to providing environmentally friendly cleaning solutions. This is evidenced through our certified Go Green® product line and our proprietary Capture and Removal® cleaning system. Through our use of these specialized products, equipment and cleaning techniques, we help to provide a healthier workplace for your employees to work in on a daily basis.
In addition to our janitorial services, we also provide floor and carpet maintenance, window cleaning, one time cleanups, spring cleanings and general maintenance.
For a free no obligations quote please contact Ian Smith by phone at (519) 209-8140.
PREVENTATIVE CLEANING AND DISINFECTION SERVICES
For years, ServiceMaster Of Brantford have been the experts in creating clean, safe and healthy workplace environments. Our experience and training afford us the ability to promote safe practices for infection prevention within all businesses.
In these unprecedented times, we are ready to respond with effective and customizable solutions. ServiceMaster Of Brantford provides a full range of cleaning and disinfection services that will help to keep your workplace healthy and productive.
GET A FREE ASSESSMENT
COVID-19 FAQs
Isn't "clean", "disinfect" and "sanitize" the same thing?
To the general public, these three terms — clean, disinfect, sanitize — are often used interchangeably. However, to a cleaning professional, these terms are not the same and can refer to very different outcomes. According to Public Health Canada and the U.S. Center for Disease Control, the definition of these terms are as follows:
Clean

This refers to the removal of visible dirt and debris through the use of soap or detergent and water. While this process may remove germs from surfaces, it does not necessarily kill the germs. This said, the mere act of germ removal lowers their numbers and does help in reducing the risk of infection.

Disinfect

With disinfection, germs are actually KILLED on surfaces through the use of chemicals. This process does not necessarily clean dirty surfaces or remove germs, but by killing germs on a surface after cleaning, it can further lower the risk of spreading infection.

Sanitize

Lastly, the term sanitize has its roots in the word "Sanitary" which is defined as "of or relating to health". When you keep this in mind, to sanitize means lowering the number of germs on surfaces to a safe level, as judged by public health standards or requirements. This can be achieved by either cleaning and/or disinfecting surfaces to lower the risk of spreading infection.
Not to confuse you anymore, but as an added bonus, we'll also define the term "sterilize" which is the process in which chemicals are used to kill ALL microbial life including bacteria, viruses, spores and fungi. This is a process that is very rarely undertaken in a facility outside of a healthcare setting.
So, for a cleaning professional, our disinfection process for your commercial facility is routinely a 2-step process - We clean first, then disinfect - in order to provide you with a sanitary facility in which to work!
Sources:
MORE COVID-19 FAQS
News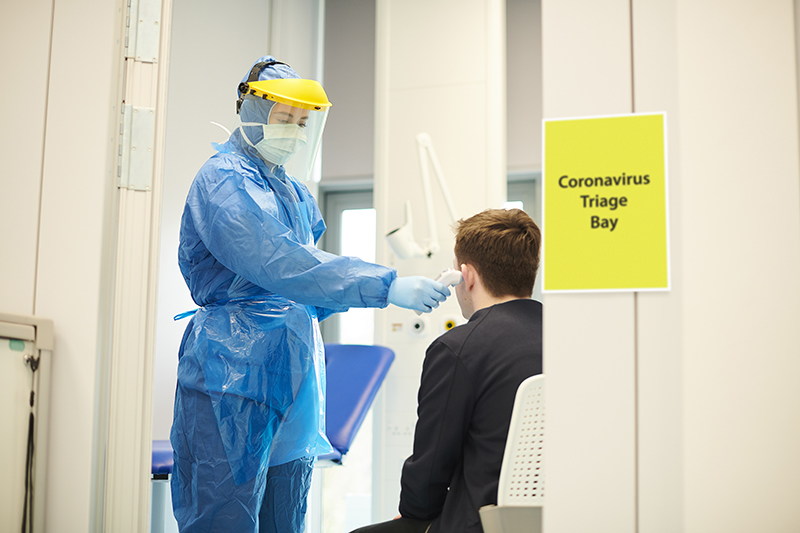 EPIDEMIOLOGY: THE BASIC SCIENCE OF PUBLIC HEALTH
Lately, people may have heard references to the term epidemiology. So, what exactly is that? According to the Merriam-Webster dictionary, epidemiology is "a branch of medical science that deals with the incidence, distribution, and control of disease in a population". While doctors and clinicians deal with the effects of disease within a single person, i.e. they work one-on-one with patients to diagnose problems and determine what can be done to make them healthier, epidemiologists are concerned with how diseases affect society as a whole.
ServiceMaster Of Brantford

58 Dalhousie St.
Brantford, ON, N4T 5N3
8 Kensington St.
Woodstock, Ont., N4S 5L4
Tel: 226-242-0770
Email: ian.smith@servicemasterclean.ca
About Us
Your commercial cleaning specialists ServiceMaster Clean of Brantford has over 14 years of commercial cleaning experience in many different industries in the Brantford, Paris, Simcoe and Delhi areas. We are results driven. We believe in doing the job right and strive to make your jo
Commercial cleaning services to suit every budget. Our plans start as low as $250 per month - whether you need daily janitorial office cleaning, commercial carpet cleaning or specialty commercial cleaning. Depending on your specific requirements, we will work with you to develop a plan that suits your needs, and your budget.
Guaranteed Service
No other vendor offers the quality of service and degree of commitment as consistently or as affordably as ServiceMaster Clean. We are so confident in our performance, we guarantee it!
Our expertise, dedication and value-added services make us the best commercial cleaning choice for your business.
Get A Free Assessment